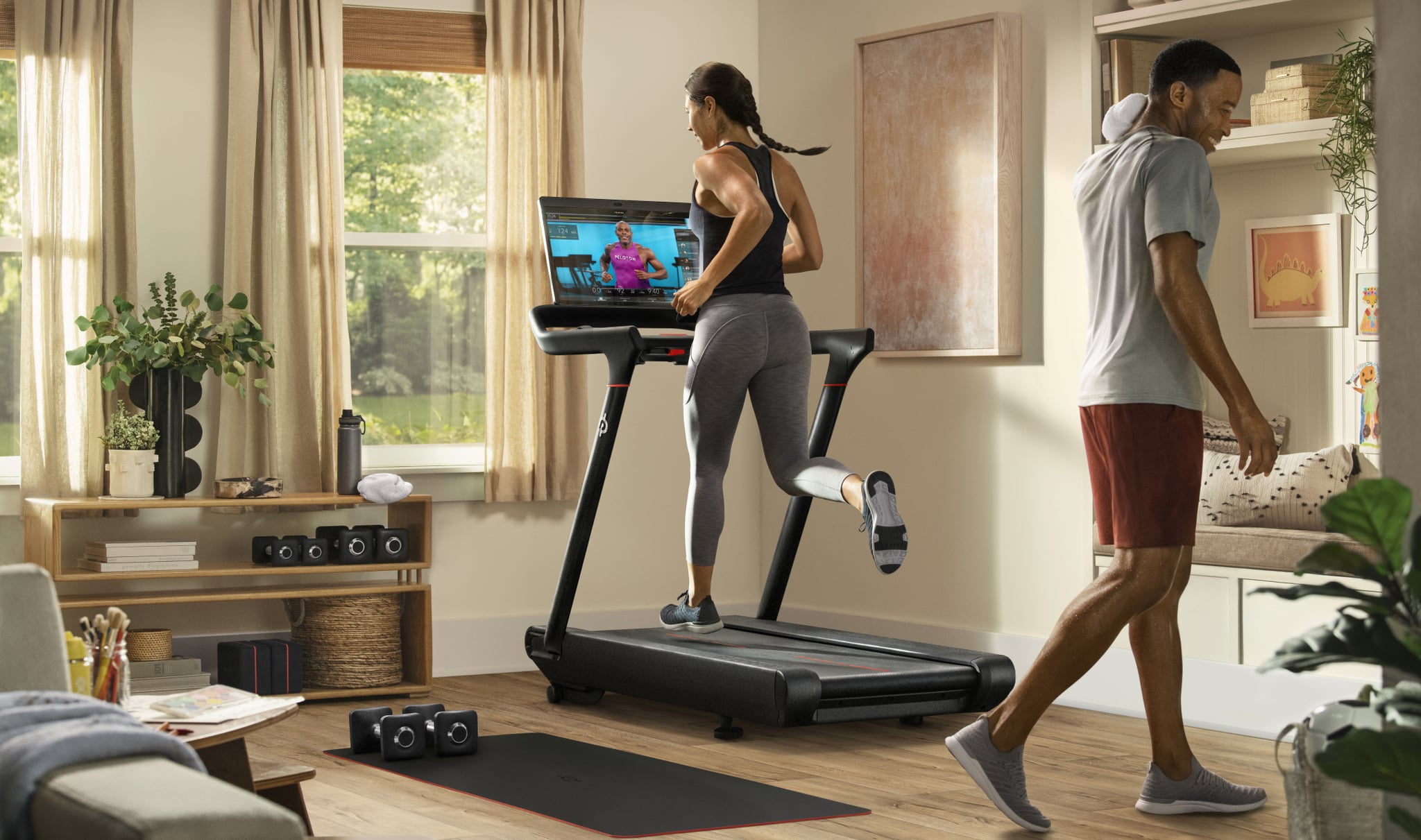 The Peloton fitness program seems more popular than ever, as many are increasingly making the switch to at-home workouts. But the hefty price tag of its top-of-the-line machinery — the Bike, the Bike+, and the Tread+ — may understandably deter those who are trying to decide whether or not home-workout equipment is a worthwhile investment.
Now, however, an exciting new product launch might make the beloved exercise brand more accessible. This week, Peloton announced the details for the Peloton Tread, a smaller, lower-priced version of the Tread+.
The Tread will be available for purchase in March of 2021 for $2,495, compared to $4,295 for the original Tread+ treadmill.
This is admittedly still a steep price to pay for a treadmill, but at nearly half the cost of the Tread+, you are still getting the Peloton perks of an HD touchscreen and sound system to stream classes that will transport you from your living room to a high-end fitness studio. The cost includes delivery fees, though it does not include the $39/month subscription for unlimited classes.
Aside from the price, the main difference between the Tread and the Tread+ is that the former has a traditional treadmill belt, whereas the latter has a shock-absorbing slat belt. If you are already used to running on a regular treadmill, the Tread belt will not be any different.
The reduced size is also a big change, making it easier to find room for the machine in your home. The dimensions are 68 inches long by 33 inches wide by 62 inches high — smaller in length than most couches. The Tread+, meanwhile, measured 72.5 inches long by 32.5 inches wide by 72 inches tall.
Despite these differences, the Tread actually still has many of the same features that sets the Tread+ apart from other treadmills on the market.
In addition to the touch screen and speakers, there are user-friendly control knobs and jump buttons to easily add speed or incline. Both machines also forgo the clunky plastic shroud typically found at the front of treadmills, contributing to a sleeker look and greater range of motion.
Of course, there are lots of factors to consider when making such a significant purchase, but there's plenty of time until March to think about whether the Peloton Tread is right for you and your fitness goals. In the meantime, you can try out the new treadmill for yourself in Peloton stores across the US.
Click here for more health and wellness stories, tips, and news.