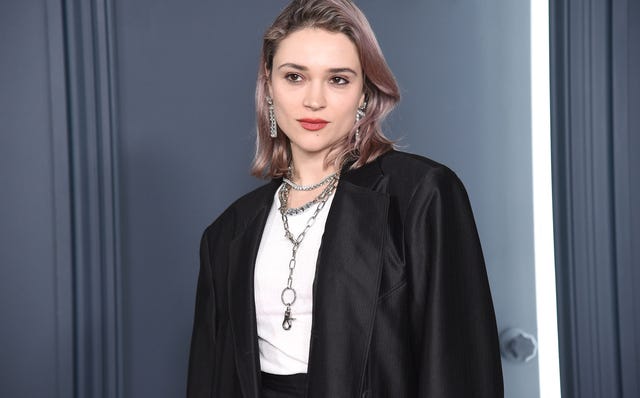 Gary GershoffGetty Images
If there was ever a moment that truly encapsulates the title of Lolo Zouai's 2019 debut album, High Highs to Low Lows, it's the one we're living in right now. Like many of us, Zouai's year started off on a high: The French-Algerian singer was slated to join the European leg of Dua Lipa's Future Nostalgia tour as the opening act from April to June. But a global pandemic reared its head in February and postponed the tour indefinitely. That could be considered one of the "low lows" on Zouai's list, depending on what day you ask her, but today, she's optimistic. "At first, I was just staying at home [in Los Angeles] and playing a lot of Scrabble," she tells me over the phone. Then she decided to move back to Brooklyn and turn her apartment into a makeshift studio, where she wrote, produced, and recorded her own songs during quarantine.
Now, the highs keep rolling in. The current period of stillness brought Zouai back to her early days of making music in her bedroom and forced her to find new ways to channel her creativity: "I started doing things I said I would always do [but] never had the time," she says, referencing therapy sessions, guitar lessons, and a newfound painting hobby. "I was always focused on something else." However, she's still adjusting to performing at-home for virtual concerts, including a set at New York Phillips Gallery earlier in September. "It's not as fun because you don't get the energy back from the audience, but there's nothing we can do right now but wait and be safe," she says. "Being an artist is about being able to adjust to the times, and get creative and figure out ways to make it work." Read on for Zouai's thoughts on the artistic process, personal style, and her post-COVID plans.
How does the title of your debut album, High Highs to Low Lows, speak to where you're at right now?
I definitely was low for a very long time. It's really hard to accept what's going on with everything. I've been making a lot of music and trying to separate myself from social media and remember who I am at the core. It's so easy to get caught up in the music industry if you don't have a good head on your shoulders. I try to stay grounded. I've been more focused on my mental health and myself as a human versus myself as an artist. I'm trying to remember that I'm a person and I need take care of myself so I can be the best artist I can be. Whenever I'm in a better place, I write better music and I don't doubt myself. I'm building up to be at the high so that when the world opens up again and I can go on that tour with Dua Lipa, I'm ready for it.
You've lived on both coasts but you're currently residing in New York. How has the city shaped your sound?
I recorded my whole album in this gritty basement. It's a music studio that has a lot of history in it—super grungy and gritty—and that comes through in my music. It brings the lo-fi to the pop sounds, because I never want to lose that authenticity. I never want to lose the feeling of being in my bedroom and recording. New York brings me there, to my early days. I don't want everything to be too polished; there has to be some grit and feeling and emotion. That's similar to my apartment in New York; my apartment is probably from the 1930s but it's still charming.
Who were your favorite artists growing up?
I remember hearing a lot of Destiny's Child and Aaliyah and Brandy. Now, Jazmine Sullivan is one of the many that inspires me.
Lots of '90s icons. How does your love of the era translate to your style? You love an oversized jacket.
I love the attitude, the feeling: Everything from that era was confident and sexy. The same with clothes; I just love vintage clothing. First of all, [it's] so much better for the environment, and you have a bigger chance of your outfit being unique. Like with the internet, there's access to everything at vintage shops. So many people have good stylists and you can get influenced by seeing what other people are wearing, but then if you walk into a thrift store and buy something you like, you have no idea where it's from, you have no idea who wore it before. That's way more exciting than fast fashion, which is horrible for our planet.
Talk to me about the anatomy of your outfits. Where do you begin?
I do love anything oversized. I grew up being prude and I realized I can show my body. I'm learning to be more comfortable with my body, but I just love anything I feel super comfortable in. An oversize blazer gives me that masculine energy. I like statement pieces. Then, I'll think of the bottom. I'll be like, "Oh, I want to wear these pants, I want to wear this skirt." Next I'll do the shirt, and then I'll do the shoes and then the jacket.
What about accessories?
I have a lot of big necklaces, like chokers, and I usually just throw those on at the end. I don't want to do too much, you know? Really, my favorite accessory is doing a bold eyeliner look. I think that's the best accessory.
Favorite eyeliner?
I don't know. Maybe Chanel. No, I mean, I have a lot of makeup that I keep. I'm still exploring eyeliners. I just like black liquid eyeliner.
At the height of the pandemic, following the tragic deaths of George Floyd, Breonna Taylor, and countless other Black people, you donated your June merch sales to Black Lives Matter and the LGBTQ Freedom Fund. Did you find it difficult to carry that responsibility of making your stance known on social issues?

If you have a voice and people look up to you in any way, it's important to let them know who you are and what you believe in and what you stand for. Being silent wasn't an option, and I don't think anybody should have been silent. We're not politicians, but we're humans and we feel. It's important that people understand who I am and that I'm not trying to make money off anything. I'm just a person that cares about society and shit. But I think it was important to sit down and think, "Okay, what do I want to say?" And I didn't want to take up too much space either, because it wasn't my place to take that much space.
What do you want to say with your music?
I want to share my feelings and be myself through my music. By sharing my personal stories, other people relate. I don't think I need to try too hard find the message, because my message is in my music with my experiences. I want to help other people feel good.
This content is created and maintained by a third party, and imported onto this page to help users provide their email addresses. You may be able to find more information about this and similar content at piano.io