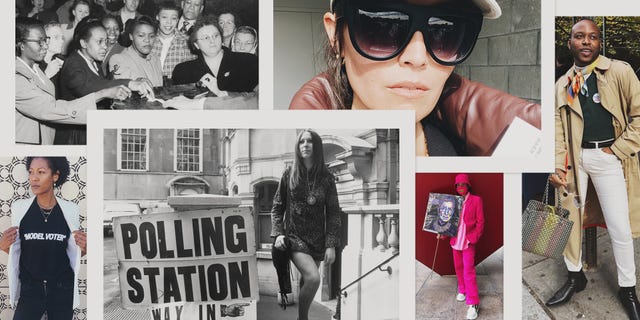 Courtesy of the subjects.Getty Images
Style Points is a weekly column about how fashion intersects with the wider world.
I voted as I did so many things this year—in sweatpants. The convenience of the absentee ballot may take a little of the glamour out of the voting process, but it hasn't divorced the process from fashion entirely. After all, whether it be suffragettes or civil rights activists, fashion has always played a role at the polls. While in 2016, a wave of women voters wore white suits, in tribute to the suffragette uniform, this election cycle seemed more focused on comfort and stability—especially for in-person voters faced with multi-hour waits. And subtler, more personal forms of self-expression prevailed. For designer Ophelia Chen, a first-time voter who became an American citizen last year, she wore something that, she says, "symbolizes me as a minority woman," She chose the same hot-pink outfit (from her brand Bobblehaus) that she wore for the Women's March this year, including a matching bucket hat "to represent my generation Z," and, of course, a mask.
Designer Prabal Gurung sent in his mail ballot early. Clad in a "cozy and heartwarming" hand-dyed sweater and his favorite pair of slippers, both from his native Nepal, he cast his vote for, he says, "leadership that represents unity, hope, and progress. Wearing items from my home country always makes me feel centered and grounded, more connected to who I am and what I stand for." For his walk to the mailbox, his mom by his side, he broke out the colorful VOTE T-shirt he designed. Abrima Erwiah, the founder of Fashion our Future 2020 and co-founder of the label Studio One Eighty Nine, also kept it all in the family, bringing along her young nephews, who ended up sporting their own "I am a future voter" stickers. She wanted them to see her voting, she says, "and to spend time with my family…to honor our tradition of voting together or spending time together as a family on Election Day when it is possible to do so."
As for her look, "I was fully decked out in our Fashion our Future 2020 merch," she says: a batik mask from their Studio One Eighty Nine collaboration, Fe Noel x Fashion Our Future scarves, and a 'Model Voter' T-shirt that they collaborated on with Off-White. The left side of her jacket was covered with voting-themed pins, and she sported Brother Vellies x When We All Vote socks. She also wore bracelets that she and her Studio One Eighty Nine co-founder Rosario Dawson made during Art Basel Miami Beach last year, reading "strength", "inspire" and "Boa Me Na Me Mmoa Wo" ("which means "help me and let me help you" in Twi from Ghana.") "I was very honored to wear our brand and our friends' brands in support of wonderful organizations," she says. "It made me feel like we were all together and supporting each other towards a common mission."
Some used their looks to pay homage to icons. Bryant Von Woodson II, a VIP Junior Account Executive at Chapter 2 Agency, wore a look inspired by Michelle Obama. "As a Black, Queer Man, I wore something that I felt [she] would of approve of. Something timeless, classic, and fabulous." He called it "an outfit for a champion."
Others made tributes to important figures in their lives. Stylist and consultant Rachael Wang carefully chose her attire in tribute to her godmother, who worked as a CT scan technician and was laid off from her job in the 1990s, losing her health insurance. "Because of her advanced age and pre-existing medical conditions, she could not find one insurance company that would insure her," Wang explains. "She started experiencing health issues and her only option was to go to a county hospital to seek medical care but appointments were very difficult to secure because of the sheer volume of uninsured folks that had to be serviced there. It took many months for her to get an appointment and by the time she was able to be seen by a doctor and they did emergency surgery, they discovered a cancer so advanced that nothing could be done and she died shortly thereafter." Wang wore an Egyptian cartouche that belonged to her, saying, "I'm voting for her and for all low-income Americans who don't deserve to die because they can't afford healthcare."
Model and activist June Johnson wore the "Model Voter" T-shirt also sported by Erwiah, along with a white Topshop blazer and a pair of jeans. Her outfit, she says, "was reflective of my power as not just a voter, but as a Black woman, a model, an activist, a young professional, and a sentient and caring being in America during this time of turbulence. As a 'model voter,' I fully understood the significance of the sacrifices my ancestors made so that I may use my power to push through change with my vote. As a 'model voter' I also understood the importance of being an informed early voter and using my platform to educate and encourage others to vote as well."
Even those who weren't eligible to vote managed to make their sartorial mark. Designer Suzie Kondi explains that "while I have my green card, I can't yet vote"— though she did hang a Vanquish Trump sign by the painter Hope Gangloff in the window of her Amagansett store—but she did the next best thing: encouraged her team to head to the polls in her comfortable matching tracksuits.
This content is created and maintained by a third party, and imported onto this page to help users provide their email addresses. You may be able to find more information about this and similar content at piano.io