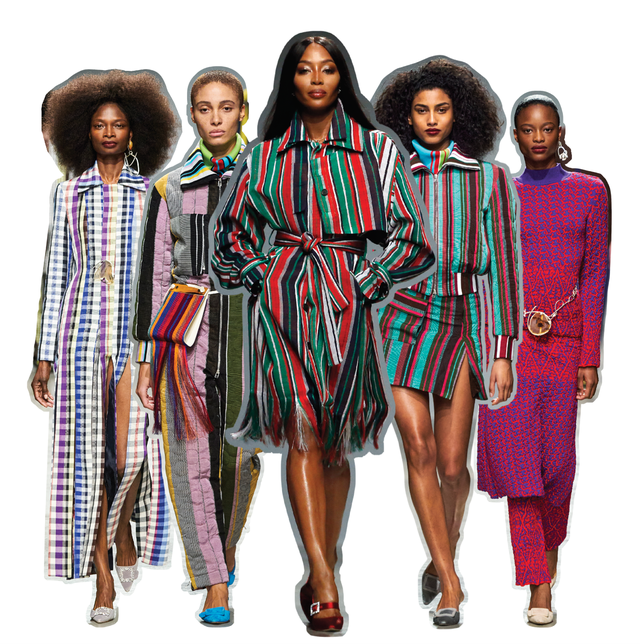 Campbell: Thierry Chesnot/GEtty Images; remaining Images: Imaxtree.
Kenneth Ize was in Venice when we spoke in mid-September, his first time venturing outside Nigeria after nearly seven months in quarantine. The 29-year-old onetime LVMH Prize finalist, who made his fall 2020 debut in Paris to much fanfare, was putting the finishing touches on his spring 2021 collection, including colorful glass and ceramic jewelry stemming from a chance meeting with an artist only a week prior. Like all of Ize's work, the collection was to be both a celebration of culture and a statement of unity. "I'm a storyteller," says the designer, who credits self-isolation with enabling him to appreciate the quiet beauty of his home city, Lagos. "I want to tell the story of my community, my experience, and my memories, while also opening people's eyes to new perspectives."
Ize says his aesthetic was influenced by his Nigerian parents, who raised him in Austria, helping him develop a global viewpoint. "Nigerian culture prizes elegance," he explains. His dapper father wanted everything to be sophisticated, whereas "Vienna is charming, romantic, like a fairy tale." He bridged that cultural divide for fall by pairing the work of Vienna's famed lacemakers with traditional Nigerian aso oke and the thinly woven palm and hemp textile Akwete, the vanishing art of which he aims to save.
It's these intersections that caught the eye of one of Ize's biggest champions, supermodel Naomi Campbell, who closed the show. "Naomi loves things with depth," Ize says. "She understood that these were not just clothes. That really empowered me. Now I feel that I have a duty to empower people in my community to believe in themselves."
This article appears in the November 2020 issue of ELLE.
This content is created and maintained by a third party, and imported onto this page to help users provide their email addresses. You may be able to find more information about this and similar content at piano.io