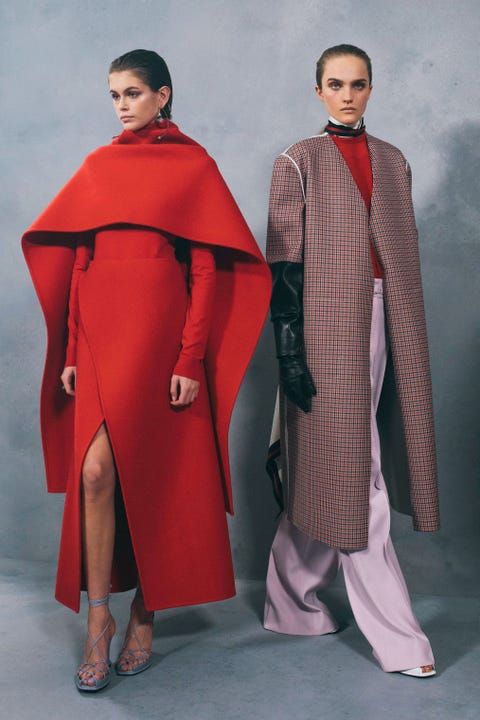 Courtesy of the designer.
Watching the '40s- and '50s-inspired looks that floated down the runways this season, I was put in mind of the painters in Mary Gabriel's Ninth Street Women, whose prim sweaters and pencil skirts concealed a broad hint of subversion. Buttoned-up, cinched silhouettes may have once looked impossibly dull and conservative. In our current epoch of elastic-waist everything, they feel as refreshing as the dry martinis their wearers once enjoyed.
Whether it's because designers have wrung so much inspiration out of more recent decades or because the faraway-seeming optimism of the postwar years feels poignant in a time of crisis, the hallmarks of the era dominated this season, from Givenchy's sharp caped dresses to Proenza Schouler's portrait necklines to JW Anderson's soft-yet-strong rounded shoulders and bubble silhouettes.
When Joseph Altuzarra delved into his grandparents' wardrobes for his fall collection, he knew he wanted to create clothes that would feel like future keepsakes. Antique garments, the designer says, "become vessels for storytelling and markers of time," and he wanted to incorporate their creased, aged quality into the garments he created. The resulting collection was "about the passage of time and the poetry in that," Altuzarra says. His Chinese grandmother's East-meets-West wardrobe of cheongsams with Western prints or Asian florals on Western silhouettes inspired the prints and tailoring; the office-drone gray flannel of his grandfather's suits appeared in multiple looks, with the suiting, appropriately enough, deconstructed for 2020.
JW Anderson's collection drew on the periods after both World Wars. "Two moments of anxiety and stress created opposing ideas," the designer says. "In the '20s, you had this idea of cleanliness after the [Spanish flu] pandemic, and then in the Second World War you had this utilitarian [theme], which was about salvage," he says, citing the emphasis on reuse due to rationing. (Call it the dawn of now-trendy upcycling.)
And though Proenza Schouler's Jack McCollough and Lazaro Hernandez didn't explicitly look to the time period this season, "it's always subliminally in the back of our heads,"Hernandez says. The two are perpetually drawn to "the cleanness, the lines, the elegance, the attention to shape," he says. "There's a classical dressmaking component to midcentury clothes." As students, they immersed themselves in 1950s Balenciaga, Chanel, Schiaparelli, and Dior. "When we came out, it was at a time when there was a lot of that downtown ripping-up-of-T-shirts going on. We were interested in the complete opposite. We wanted to make beautiful, tailored clothes." Post-COVID, "I think we will see a sort of peacocking happen," Hernandez says. "The $500 hoodie and $1,000 T-shirt and sweatpants and sneaker culture is great and wonderful, and we all love that. But after a while, just a hoodie is a bit boring. Suits and jackets start to feel so romantic and fresh again." Adds McCollough: "A sense of discretion definitely overrides 'in your face' fashion."
Still, all the designers were mindful of not idealizing a time that was, in reality, far from ideal for so many, especially women and people of color. For Altuzarra, whose grandparents immigrated to the U.S. from China, fashion's role in assimilation can't be underestimated. "I think a lot of the desire to assimilate was expressed sartorially," he says, "through things like the gray flannel suit." For Anderson, the collection was a way of reconciling history with our current moment. "Sometimes," he says, "we need to look into the past to propel ourselves forward."
This article appears in the November 2020 issue of ELLE.
This content is created and maintained by a third party, and imported onto this page to help users provide their email addresses. You may be able to find more information about this and similar content at piano.io