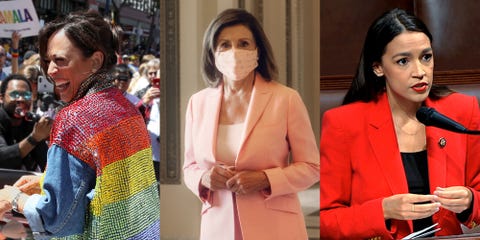 JUSTIN SULLIVAN/GETTY IMAGES; JARED SOARES; AP/SHUTTERSTOCK.
It seems like several lifetimes ago that Michelle Obama shocked a public steeped in couture-clad First Ladies by rotating through a kaleidoscope of young designers—Thakoon and Jason Wu among them. In her Netflix documentary Becoming, Obama addresses the pressures that caused her to embrace clothing as part of her messaging. "Fashion for a woman still predominates how people view you, and that's not fair, that's not right. But it's true,"she says. With her choices, Obama moved the needle, proving it's possible to be a woman of substance and intelligence and still love style.
Now we have a vice-presidential candidate, Kamala Harris, who wields fashion choices like weapons in her arsenal. There was her denim jacket of rainbow colors, worn to celebrate Pride in 2019, with symbolism so clear she needn't have uttered a word. She signals she's real with broken-in jeans and Converse sneakers in casual forums, but often tops them with armor—a dark tailored jacket of some sort. She's paired jeans with an Hermès belt buckle, and donned beaded and studded jackets.She's projected her interest in ease and speed by favoring sensible footwear and pants over skirts and dresses. The quality that unites all her choices: These are clothes of power—no frills, no fuss.
In 2020, female political leaders have become bona fide style icons, arguably more broadly influential than the Hollywood celebrities and supermodels who are paid to look good. Certainly, they appeal to a segment of consumers who are not moved to go shopping by Beyoncé's red-carpet garb. With vivid color palettes, simple tailoring, and bold lip colors, women in politics are establishing a nontraditional power look that unabashedly embraces fashion—a realm once viewed as synonymous with a lack of seriousness. Here's Alexandria Ocasio-Cortez delivering a lesson on sexism in a loose crimson blazer. There's Stacey Abrams in a well-fitted coral jacket and softly draped tee (and natural hair!) explaining on MSNBC that her goals include letting people see her unapologetic ambition. These women are name-checking brands—who doesn't know that AOC prefers Stila's Stay All Day liquid lipstick in Beso or that Nancy Pelosi donned a Max Mara coat after a meeting withPresident Trump?—in a manner that was once reserved for First Ladies, and their choices are celebrated in fashion blogs and magazines.
They also sell clothes. Pelosi drove a run on colorful overcoats after her post–White House victory lap in the now-famous coat she'd pulled from her closet that winter morning in 2018; more recently, her color-coordinated masks have sparked widespread admiration. Ocasio-Cortez has launched a legion of Stila-slathered lips. Dr. Deborah Birx's scarves have their own Instagram stan account. Yet the fashion choices of political leaders don't always align with red-carpet labels and advertising budgets. These women are working—and so are the women watching them.
Traditional DC primness has been relaxed, led by an influx of young female leaders who have a fearless relationship with fashion. Now we see Arizona senator Kyrsten Sinema sassily showing up in Congress in a lavender wig and a mask(she was supporting social distancing and avoiding hair salons). Governor Gretchen Whitmer, known as "the woman in Michigan" to President Trump, called criticism of her February 2019 State of the State dress gender-bias "garbage." She later appeared on The Daily Show With Trevor Noah in crimson lipstick and a T-shirt reading "That Woman From Michigan." There is now a possibility that, in Harris, America will have its first female vice president. For their joint press conference, she and Joe Biden sported matching blue tailored suits—but hers signaled modernity with an off-white knit shirt and a chic pearl-and-gold necklace. Whatever she puts on in the future, you can bet that powerful women will be watching—and wearing—it.
This article appears in the November 2020 issue of ELLE.
This content is created and maintained by a third party, and imported onto this page to help users provide their email addresses. You may be able to find more information about this and similar content at piano.io