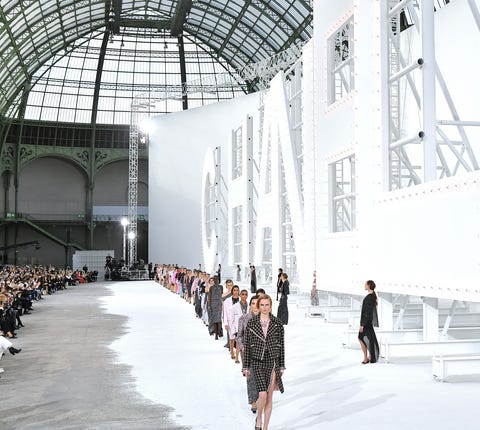 Dominique CharriauGetty Images
Lights, camera, Chanel. The Hollywood Hills came to Paris' this morning as Chanel set its name in lights for the house's spring-summer runway show. Per Virginie Viard: "This collection is a tribute to the muses of the House Gabrielle Chanel and Karl Lagerfeld dressed so many actresses in films and in real life." But Viard didn't want to make direct references with vintage cuts or imitations of manicured characters seen on film. Instead she sought to conjure a celebrity's air.
This content is imported from YouTube. You may be able to find the same content in another format, or you may be able to find more information, at their web site.
To accompany the show, Chanel enlisted Inez van Lamsweerde and Vinoodh Matadin to create a cinematic experience, releasing images and a short film that are inspired by the house's privileged relationship with actresses, both on and off-screen.
"I was thinking about actresses at the photo call, on the red carpet, that moment when they're being called to by the photographers: their faces a little distracted, their attitude a little out of sync with the outfits they're wearing," Viard explained. The collection taps into the relationship between an actress's real life and the role she's playing.
References to the silver screen ranged from subtle (a scarf tucked under a coat a la Grace Kelly) to obvious (a skirt printed with the words "Coco Chanel Presents"). But there was a youthfulness injected throughout, presented as pedal pushers or rising hemlines of flippy skirts and dresses. An aloofness accompanied the fit of '80s shoulders. Afterparty dresses were suitable for Sunset Boulevard, and throughout there was a healthy dose of saccharinity to the Pretty in Pink outfits that belong to a teen queen protagonist. Molly Ringwald and Regina George alike would look natural in those bubblegum cardigans.
The cheekiness of this seventy-look collection was all in the details. The jewelry in particular took a departure from pearl strands and doubled down on the costume aspect; Flap bags were reinterpreted as massive pendants and curb chains were emblazoned with "forever" atop the brand's iconic interlocking c's. I'm not sure how widespread birdcage headbands will be next season, but Emily in Paris has entered the chat.
Chanel's history with Hollywood it-girls is well documented, and if the show's front row was any indication, will continue forever. Clad in white masks handed out at the event, attendees included Marion Cottillard, Blackpink's Jennie and Kristen Stewart.
This content is created and maintained by a third party, and imported onto this page to help users provide their email addresses. You may be able to find more information about this and similar content at piano.io