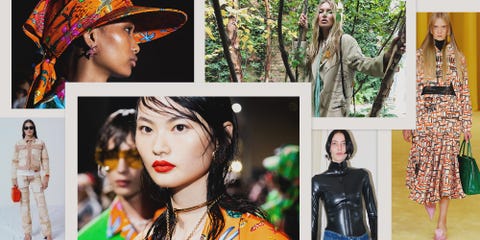 Courtesy of the Brands; Coach/Juergen Teller, Kwaidan Editions/Léa Dickely
Style Points is a weekly column about how fashion intersects with the wider world.
This summer, I spent a lot of my time on the phone, chatting with designers and other fashion people about what they thought the future of fashion might hold. One of the most common refrains, which will not surprise anyone who's been following recent industry discourse, was that seasons no longer matter. Many of those I spoke to said traditional fashion weeks are no longer working for them, and that they want to release collections more in line with their own whims.
And now that time is a flat circle, those of us on the other end of the exchange—the customers—are feeling that way too. This isn't a brand-new phenomenon, of course—it's reflected in the see-now, buy-now craze that hit a few years back and the popularity of reissues by brands from Prada to Marc Jacobs. As Sloane Crosley observed in the pages of ELLE earlier this year, the nostalgia window is getting smaller and smaller as celebrities re-wear recent vintage and we all scour The Real Real and Depop for fresh grails. Amid the urgency of the sustainability movement and the rise of upcycled brands that have helped us look at old clothes in a new way, the old fashion-victim prohibition against clothes that were "so last season" was already, thankfully, feeling tired.
But COVID and time at home has definitely accelerated the process. I'm sure I'm not alone in rooting around in the recesses of my closet and finding things that seem to, once again, make sense in my 2020 wardrobe. From the costume designs I did for a production of Heartbreak House in college—hybrids of chopped-up wedding dresses and military gear scrounged from an emporium called Dollar a Pound—to my uncle's FDNY sweatshirt emblazoned with his firehouse number, everything (a little bit) old is new again. To use the well-worn parlance of the 2008 recession, we're all shopping our closets once more.
And judging from Spring 2021 thus far, designers seem to be on a mind-meld with the rest of us. At Versace, the Trésor de la Mer prints from spring 1992 found new life, while Miuccia Prada's much-talked-about linkup with Raf Simons featured a few looks with the signature prints of her 1996 collection. For his spring 2021 Coach Forever collection, Stuart Vevers reissued a personal favorite of mine, the fall 2014 Apollo sweater inspired by Danny's sweater in The Shining. (I remember craving it when I first saw Tavi Gevinson wearing it six years ago.) A T-shirt from his spring 2018 Keith Haring collaboration and a reimagined Coach x Jean-Michel Basquiat trench from this past season also made their way into this season's collection.
This archive diving wasn't limited to big brands with decades of history and climate-controlled archives to mine, though. Heron Preston refined some of his greatest hits, like the Toolbox bag. "I looked at our best performing pieces, and pieces that had become emblematic of what we do," the designer said in his show notes. "Even before COVID-19 hit, I felt that I was doing too much, too much, too much. This collection is smaller, with a greater focus on our core strengths."
At Kwaidan Edtitions, founded in 2016, designers Léa Dickely and Hung La looked to their previous work with pieces that riffed on their label's signatures. During a Zoom walkthrough of the collection from their London HQ, the designers showed me a mood board they put together of past key items, including their viral tie-dye swirl T-shirt from spring 2018. Luckily for them, their archive is conveniently located in their London home. "While everybody was cleaning out their attics, we were digging through our archive," La says. "For us, it was a moment where everything slowed down. There weren't a lot of emails and factories slowed down. We created a space where we kind of revisited everything we [had done], because we didn't know what to do next."
"There's always this fear of getting called out for something you've done before," says La. But, "because of COVID, the rules were different this season." The pressure on designers to reinvent the wheel every season seems to have ebbed. But there was still room for a new kind of reinvention. "Even though we're playing with signatures that we've used before," like a rubber coat and plaid suiting, says La, "they don't feel the same."
And "without all the noise," Dickely says, she was able to take the time to focus on her signature hand-drawn prints, many of them inspired by the decor of her grandmother's home in the Alsace region of France ("I think Léa's creativity was born in that house," La adds.) As Dickely puts it, speaking for so many in the fashion world this season, "We're not in this race anymore where we need to just advance and erase, advance, erase."
This content is created and maintained by a third party, and imported onto this page to help users provide their email addresses. You may be able to find more information about this and similar content at piano.io