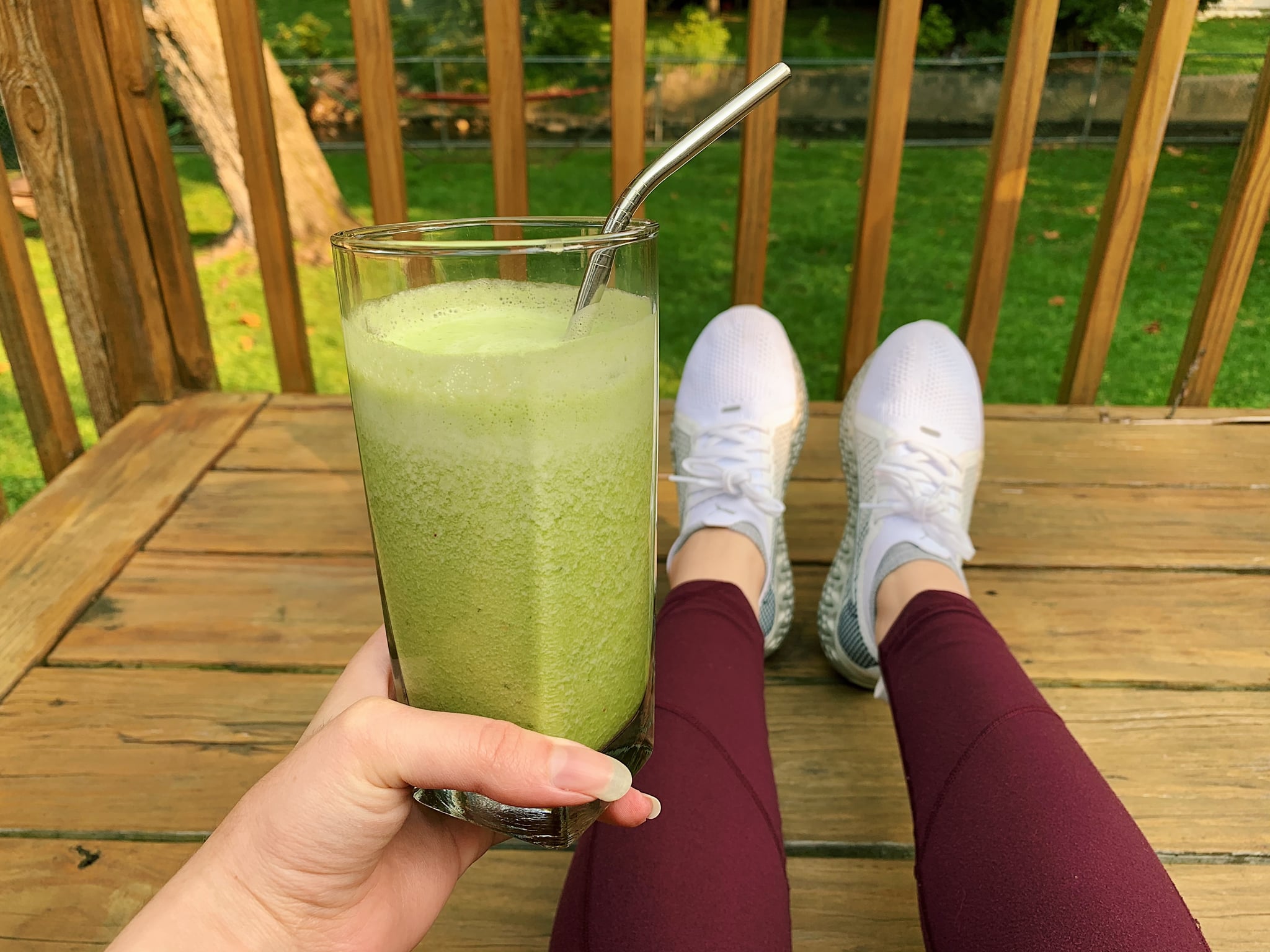 I did this thing when I was younger where, as soon as movie credits started cascading down the screen, I'd pretend I had transformed into my favorite character from the film (badass gymnast Haley Graham in Stick It, Belle in Beaty and the Beast, The Hunger Games's Katniss Everdeen). That's why I was slightly disappointed when I didn't magically emulate tennis powerhouse Naomi Osaka after I gave her post-workout smoothie a taste test. I mean, I'd done the prep work and everything — even lifted my way through an early-morning 30-minute strength session thanks to Peloton.
Alas, I didn't gain the agility, speed, and competitiveness Osaka showcases on the court. Nor did said tennis court transport itself into my backyard with the 2020 US Open trophy waiting for me by the net. What I did get, though, was a pretty damn good smoothie.
After Osaka sweats it out, her drink consists of spinach, cucumber, ginger, pineapple or apples (or both), lemon juice, BodyArmor Lyte, and, of course, protein powder. I didn't use the exact BodyArmor drink that Osaka uses — I could only get my hands on BodyArmor Lyte Peach Mango instead of the BodyArmor Lyte Coconut or Tropical Coconut that she prefers. But, Osaka still lists Peach Mango as one of her favorite flavors, so it felt appropriate.
When blended, the smoothie tastes fresh from the greens, semi tropical from the pineapple (though it would have been more tropical-tasting if I'd added the BodyArmor Lyte Coconut), and somewhat sweet. Plus, there's a modest kick from the ginger. Through the crispness came an unidentifiable aftertaste (not horrible, but not wonderful), though by making a batch without the protein powder afterward, I later figured out that the aftertaste was a result of the vanilla bean protein powder I had mixed in.
The vanilla bean flavor was the best I could find in my house for this recipe — my other choice was chocolate (Can you imagine?!) — and although the smoothie was still good with the powder blended in, it was better when the powder, my powder, was not. It's for this reason that I suggest using a flavorless protein powder so you can really get the freshness from the fruits and veggies.
I tried and tried again with the perseverance, I dare say, of Osaka. She knows how to rally after a loss. After all, she was the first woman since 1994 to come back after losing the first set of a US Open final. We'll toast to her with this post-workout smoothie — find the ingredients and directions ahead.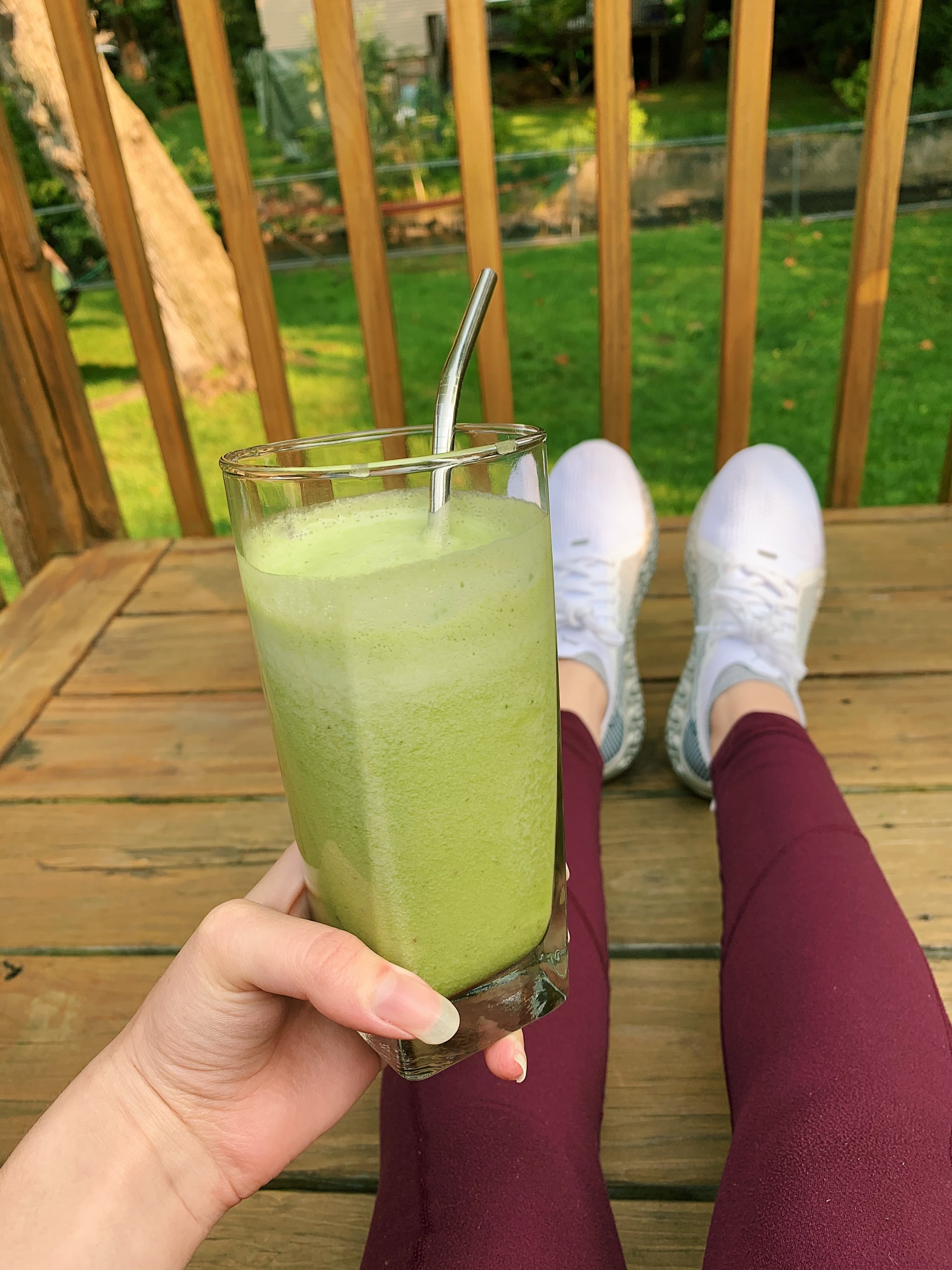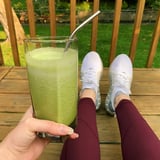 Ingredients
1 cup spinach (the more the better)
1/2 cup diced cucumber
Handful of apples and/or pineapples
1/2 fresh-squeezed lemon
8 oz BodyArmor Lyte Coconut or Tropical Coconut
1 tablespoon protein powder (I suggest plain or a flavor that's fruity)
1 tablespoon ginger
2 to 3 ice cubes
Directions
Gather your ingredients.
Cut up the cucumber, apples, and pineapples and place them in the blender.
Add ginger (I just cut off a piece of raw ginger and used that without the skin) and spinach.
Squeeze the juice from half of a lemon, and add the BodyArmor and protein powder. Lastly, add ice.
Blend everything until combined evenly.
Enjoy!
You can find an estimation of the nutritional information from verywell for this smoothie below. However, know that this is only an approximation and does not include the eight ounces of BodyArmor Lyte (per serving, the one I used only has 20 calories and two grams of sugar). The nutrition facts will also vary depending on what protein powder you use.
Information
Category

Drinks, Smoothies

Yield

2 glasses, or 1 large smoothie
Image Source: POPSUGAR Photography / Sam Brodsky