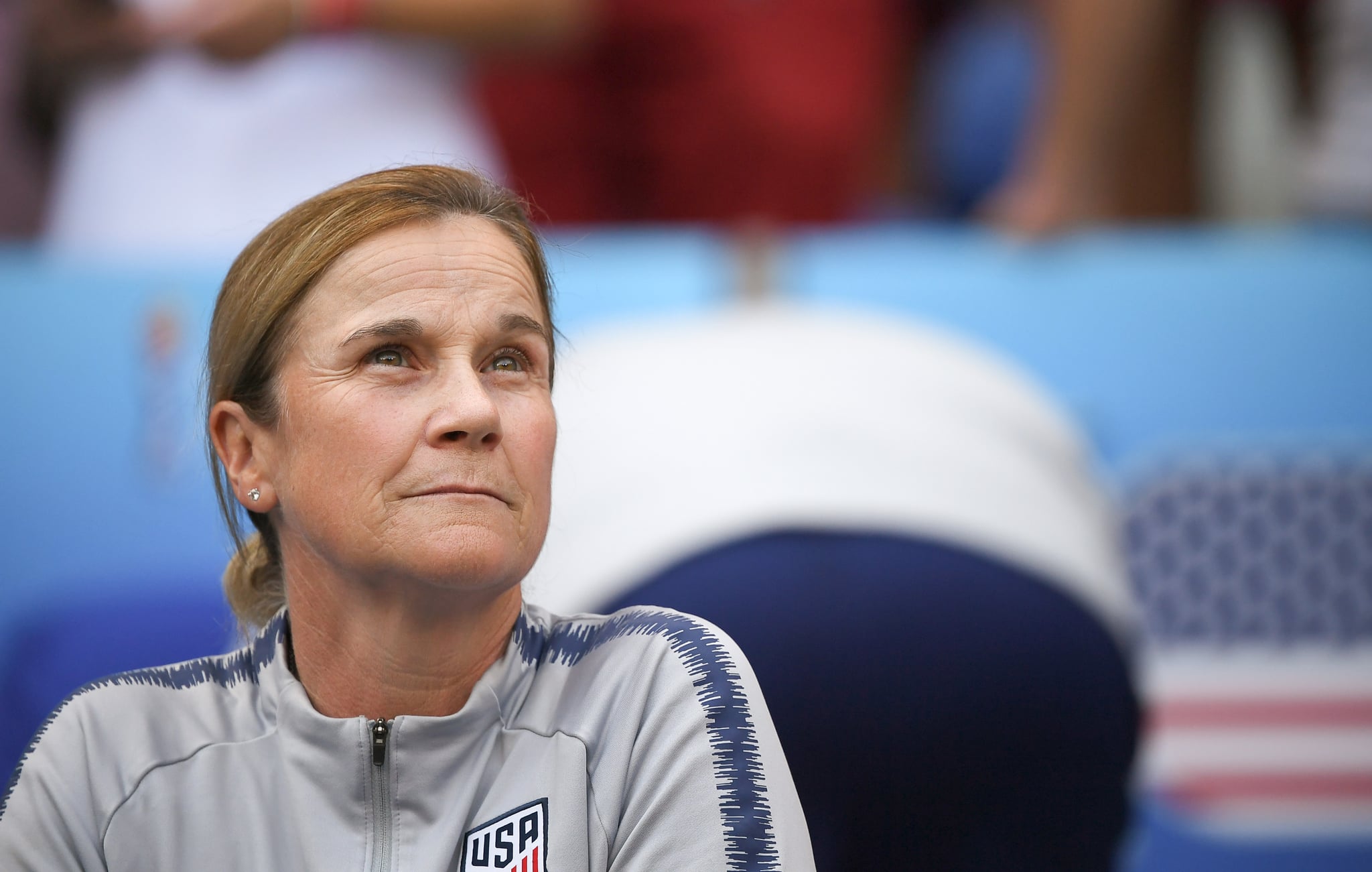 When Jill Ellis retired from coaching the US Women's National Soccer team last October, it may have come as a surprise to some. Who could possibly hang up the clipboard mere months after leading a team to their second consecutive World Cup victory? But according to Ellis, she knew as early as Dec. 2018, six months before the World Cup kickoff, that she was ready to move on. "National team jobs are not jobs that people take for 10, 12 years," Ellis told POPSUGAR. "It was like, 'You know what? I've done two World Cups. I've done three Olympics [as head coach, assistant coach, and program development director]. Amazing experiences, all of them. Now I'm ready to look at a different situation."
Currently, Ellis is serving in an ambassador role for US Soccer. She's doing speaking engagements and raising money for causes like a scholarship program that benefits female soccer coaches, while pushing to grow women's soccer across the world. And she was just featured in episode two of The Playbook, a Netflix docu-series that delves into the minds of iconic coaches from all over the world. The episode saw her reliving some of the highs and lows of her coaching career, including the aforementioned 2019 Women's World Cup, which saw the USWNT embroiled in high drama on the field and off. So what was it like behind the scenes as Ellis led her team through those unprecedented situations? And can we expect see her on the sideline sometime in the future? We spoke to Ellis to find out.
Jill Ellis on Equal Pay and Political Drama at the World Cup
The USWNT entered the World Cup having already begun their fight for equal pay, alleging that US Soccer had discriminated against them on the basis of gender. As head coach, Ellis wasn't directly a part of the lawsuit and said she didn't address it with players, but did support them publicly. "Anytime a woman can stand up and advocate for themselves, I think that that is a win," she said. "To have a voice and to use a platform and to be brave, I think is great. I have a 15-year-old daughter. I want her to be able to have that."
By the same token, Ellis refused to muzzle her players when they spoke about issues off the field. That decision came into play when, three days before the USWNT's huge semifinal against France, a video dropped showing Megan Rapinoe stating, in no uncertain terms, that she would not be visiting the president if the team won the tournament. (The direct quote: "I'm not going to the f*cking White House.")
Ellis typically stays away from the news cycle during competitions, but a press officer showed her the video when it started going viral. "I smiled," she remembered. "I was like, 'OK, yeah, that's good to know!'" In the car on the way to a press conference afterwards, Ellis said Rapinoe took the initiative. "She said, 'Hey, I'm going to say a few words at the beginning,'" Ellis remembered. "She wanted to address it because she recognized that this is going to be an ongoing narrative, and we as a team were not going to have anything distract from what the goal was."
Those "athletes should stick to sports" arguments? Ellis has a different take. If anything, she said, the extenuating circumstances and the players' outspokenness served to galvanize the team in their historic run for a World Cup. "The more comfortable people can be in who they are, the easier they feel committed to the whole and to the group," she said. "Players have opinions and voices and a platform. That's a natural part of it when you're a world-class team. I don't think it's something that you ever want people to shy away from."
Will Jill Ellis Coach Again?
Ellis retired in Oct. 2019, three months after her World Cup victory. Fast-forward to August 2020, and Ellis's name has already been in the conversation for two other national team head coaching roles: England and Australia. (England's position has since been filled by Sarina Wiegman, formerly head coach of the Netherlands.) So, can we expect to see Ellis suiting up to coach once more?
"If the sideline beckons and it's the right opportunity, then yes, I could see myself going back," Ellis said, be it for national or club team. Right now, taking the pandemic into consideration, "I've not felt a great rush," she admitted, adding that she's finding her work growing the game off the field to be rewarding as well. "It really has been motivating to see what you can do when you get a group of people that are passionate about something, that want to effect change. Similar to coaching, right?" Ellis said. "It's incredibly rewarding to create opportunity."