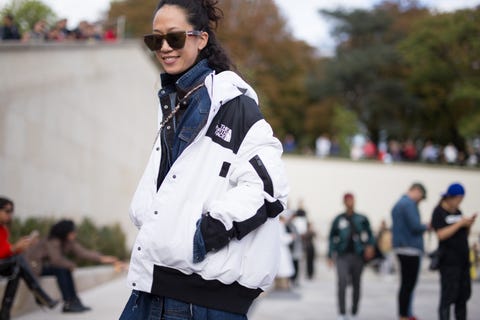 Matthew SperzelGetty Images
Despite announcing its departure from a traditional fashion show calendar, Gucci is still making headlines in the middle of fashion month. With a short video clip posted to Instagram and TikTok, the Italian house has announced that a collaboration with The North Face is underway. The teaser features both brands' logos on a flag pitched on a summit. Let the literal and figurative foghorn sound, because this is a collaboration we didn't know we needed.
This content is imported from Instagram. You may be able to find the same content in another format, or you may be able to find more information, at their web site.
While The North Face is familiar with high fashion partnerships—they've previously worked with Supreme, Sacai and MM6 Margiela, to name a few—this marks Gucci's first collab under Alessandro Michele's tenure. Gucci has taken on its own variation of hiking boots in the past, so it only makes sense for them to pull directly from the source with the outdoor brand. It's peak gorpcore, alps-related pun intended.
The North Face is known for its lifelong efforts in reducing its carbon footprint, so this alliance falls in line with Gucci's recent steps toward a cleaner future. In June, Gucci launched Off the Grid, its first sustainable collection made with recycled, organic, and bio-based materials. It's also a part of Circular Lines, the brand's ongoing mission to create a circular production line that decreases the amount of waste introduced into the ecosystem by reimplementing it back into their supply chain.
Details about what this collaboration looks like or when it drops is still unknown, but Gucci's rep stated that "Gucci and The North Face confirm that they will be bringing a collaboration to life in the coming months that celebrates the rich heritage of both brands."
This content is created and maintained by a third party, and imported onto this page to help users provide their email addresses. You may be able to find more information about this and similar content at piano.io