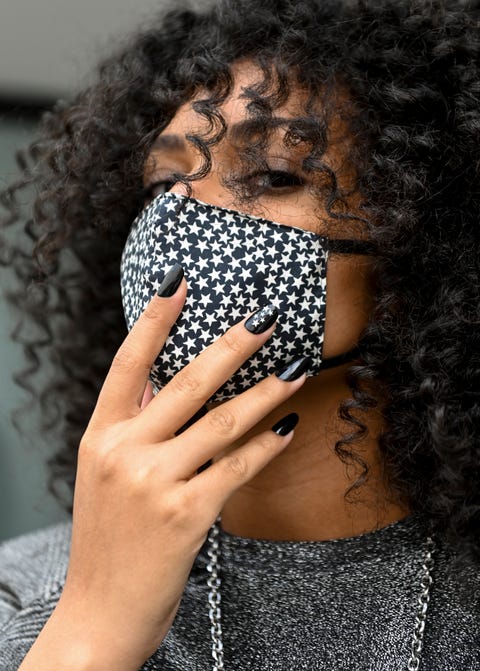 Diane Bondareff for Kiss Products
At the start of the pandemic in March, it was difficult to envision what New York Fashion Week would look like with everyone sequestered to their humble abodes—or if there would even be a #NYFW. But in the city that never sleeps—even in the middle of a global pandemic—the show must go on.
Designers traded in packed fashion show benches with splashy front row guests for intimate, socially-distanced audiences of friends and select editors; physical invitations turned to Zoom links; and beauty editors' backstage access to finding the new season's hottest trends were sent via email—lots of emails. While the excitement that makes NYFW a must-see spectacle every year was hard to convey behind tablets, laptops, and phone screens and faulty home WiFi, backstage beauty gods didn't skimp on the WOW-factor, even if only a select few of spectators would see. Ahead, the best nail looks from the Spring 2021 runway shows.
Rebecca Minkoff
Inspired by David Bowie's ethereal aura and glam rock aesthetic, Rebecca Minkoff went to task to bring Bowie's signature rocker vibe to life through statement-making nail art. Stars, studs, and, of course, the color black, is synonymous with the rockstar lifestyle so celebrity nail artist Gina Edwards reached for the Kiss Halloween Salon Color Nails in Bonfires, which come in a long stiletto nail shape. Edwards trimmed the nail down to a short coffin and added silver stars and accents from the Kiss Salon Secrets Nail Art Starter Kit to drive the "rocker vibe for the on the go woman" theme home.
---
Christian Cowan
This content is imported from Instagram. You may be able to find the same content in another format, or you may be able to find more information, at their web site.
Christian Cowan upped the ante on his usual quirky aesthetic by collaborating with fellow wildchild Lil Nas X that celebrates the lively spirit of underground culture. The duo teamed up with Loveland Foundation to create a fund that directly benefits Black trans youth. With punk influences peppered throughout the collection, lead manicurist Mar y Soul created 22 nail looks that married Cowan's unique edge and Lil Nas X's vibrant personality using Swarovski crystals, Apres Gel X, and Defy & Inspire nail polish in varying shapes and sizes.
"To create each nail look, I personally custom fit over 300 Aprés Gel X nail extensions and filed many into a unique shape that resembles a tanto tip Japanese knife," she explained on Twitter. "Depending on each outfit I then paired colors from defy & INSPIRE to compliment each look."
---
Wiederhoeft
When you've dressed the Mother Monster Lady Gaga, we expect nothing less than the brand's otherwordly whimsical aesthetic—and Wiederhoeft delivered in its Spring 2021 presentation Mother Goose and all her Silly Little Friends. Wiederhoeft translated its signature whimsy to the nail art, designed by nail artist Ada Yeung. Yeung created a slew of nail looks, including looks with orange ombre, outlining, and metallics.
---
Tom Ford
This content is imported from Instagram. You may be able to find the same content in another format, or you may be able to find more information, at their web site.
Tom Ford wants you to go crazy with color this upcoming spring. (Doesn't that just feel right?) Bright orange and neon pink nails, as seen on the latest model's fingertips, are a great place to start Let this be a reminder, no ballerina pinks or muted nudes for spring.
This content is created and maintained by a third party, and imported onto this page to help users provide their email addresses. You may be able to find more information about this and similar content at piano.io