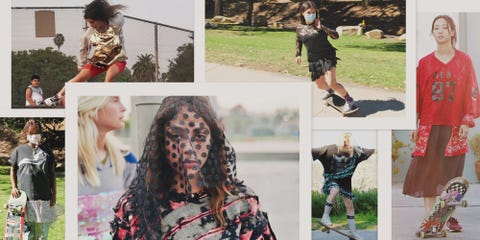 Amanda Demme/Courtesy of the Subject
Style Points is a weekly column about how fashion intersects with the wider world.
When Imitation of Christ began showing in 2000, the press immediately latched on to the sexiest talking points. There was the memorable name, with its hint of sacrilege. The site-specific shows that verged on performance art: a funeral, a pretend movie premiere, a role-reversal runway show where editors walked while the models took notes on them. The downtown glitterati who flocked: Lou Reed and Isabella Blow in the audience, Scarlett Johansson on the runway, Chloë Sevigny as the creative director.
But amid all the pageantry and fame adjacency, something else was going on—something that would have more lasting effects on fashion. The designers, Tara Subkoff and Matt Damhave, were reimagining secondhand clothing in a radical way. Everything they used was thrifted or found at a vintage store and hand-sewn, transformed into something new and exciting in the same way an enterprising art-school student might. (Indeed, both had attended art school.) You might even call them the original upcyclers. They certainly paved the way for a new guard of designers to upend the way designer clothing was "supposed" to look.
But at the time, terms like "upcycling" and "sustainability" weren't yet circulating in the fashion world. There was little online shopping and no social media, and designers weren't using their shows to make statements about what we then called global warming. But for Subkoff, "We had a lot of hope for communicating and inspiring people to think about how and what they consume. To be aware of what they buy and how much. To try to consume less and not to buy new. We were concerned [about the environment] at the same level of Greta Thunberg, but back in 2000."
20 years later, the fashion landscape looks a little different: thanks to Instagram, photogenic installations and performances are all too common, and designers are expressing their concern about climate change via upcycled clothes and sustainable practices. Unfortunately, the literal landscape also looks quite different: California, where Subkoff currently lives, has the worst air quality in the world right now. "It's scary," she says. "We can feel [it] in our throats and eyes burning when we go outside."
This year, on, appropriately enough, Independence Day, Subkoff reintroduced the ultimate indie brand, after a 7-year hiatus. While the collection may look a bit different these days, she says, "the heart is the same. The hope to create a new future where we consume less." For spring 2021, she showed at a skate park in Los Angeles's Highland Park neighborhood and via a video stream and opera performance on the corner of Bowery and Houston St. in New York. Elements of the artfully upcycled collection could have come from a thrift haul with your coolest high school friend: whorls of tie-dye, acres of tulle, sports jerseys layered over slipdresses. There was even one figure in campy mourning clothes who evoked the label's debut show at an East Village funeral parlor. The collection was immediately available for sale on The Real Real, a favorite of Subkoff's for finding sustainable designer items, with proceeds from the sales going to Black Lives Matter, COVID Relief and Fridays For Future, Greta Thunberg's organization that has drawn Jane Fonda as an adherent.
Subkoff has made it a point to work on the new collections with young talent. This season, it was co-creative directors Lola Valenti Roberts, Tessa Crockett, and Violet Baudin Lackey. "I've worked with so many big designers and fashion houses when I was young and starting out. It was the only way I could finance continuing IOC. I am still not allowed to mention consulting and designing for them as it isn't customary in this industry to give credit. The bigger names prefer to keep it for themselves," says Subkoff. "I wanted to change this and to give credit where it is due, to change an 'internship' into a 'guest-creative-director-ship'. It gives [them] confidence and allows for new ideas to come to life."
Between the creative team and the skateboarders, there was plenty of Gen Z representation, which felt apropos. "It's important to the project that the younger generation be involved," Subkoff says. "It is beyond unfair that they have to inherit an environmental crisis. I hope that by getting them to be inspired to effect change, even in such a small and individual way as this, that it can evoke bigger ideas in them. They are the ones that can come up with better solutions than we have and we all have to pray for this to happen—and soon."

This content is created and maintained by a third party, and imported onto this page to help users provide their email addresses. You may be able to find more information about this and similar content at piano.io