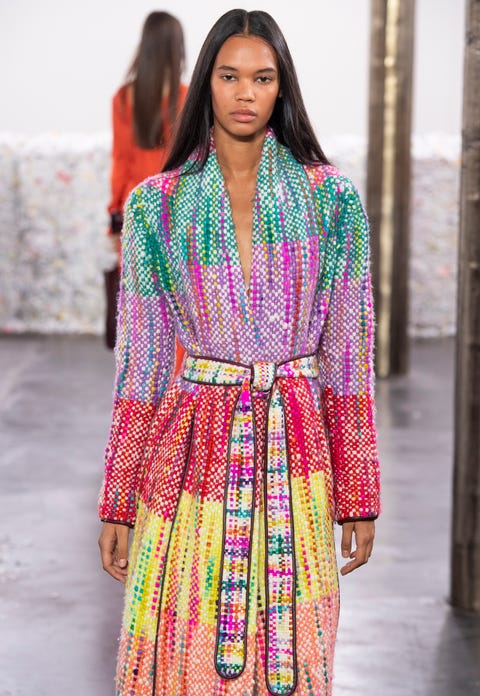 Victor VIRGILEGetty Images
"When it comes to energy, we need to look to the future, and when it comes to garments, into the past," Gabriela Hearst said at a preview of her fall 2020 collection in February, a month before the world, and the industry, got turned upside down. Eco-pioneers like Hearst and Stella McCartney have been calling on the industry to follow their lead for some time now. But with widespread cost-cutting measures in the wake of COVID-19, it remains to be seen if the industry can maintain its commitment to greener production, and if eco-friendly habits like upcycling, re-sale, and clothing rental will suffer as a result of fears about spreading the virus.
Fashion consultant Robert Burke predicts such innovations aren't going anywhere. "Younger generations,"he says,"are looking for sustainability, non-mass-produced goods, and uniqueness," so they probably won't be giving up their Depop habit anytime soon."The sort of hedonistic luxury that was already feeling old to me before the pandemic is definitely over now," Hearst says."I'm certain that there will be a return to craft and quality."
As for what designers can do, "there's a misconception that 'sustainable' equals 'expensive,'" Hearst says. "But it's quite the opposite: It's about minimizing waste."
"For years, fashion has been allowed to carry on without any accountability for the environment or human rights," adds Céline Samaan, founder and executive director of sustainability literacy nonprofit Slow Factory Foundation. "The public now demands more. The only way forward is education, radical transparency, and accountability at the intersection of environmental impact and human rights." McCartney is equally passionate, calling this moment a turning point. "We cannot have sustainability without solidarity,"she says."We are seeing that there's hope—and what we can accomplish when we rise up together."
See ELLE's full package on the future of fashion here.
This article appears in the September 2020 issue of ELLE.
This content is created and maintained by a third party, and imported onto this page to help users provide their email addresses. You may be able to find more information about this and similar content at piano.io