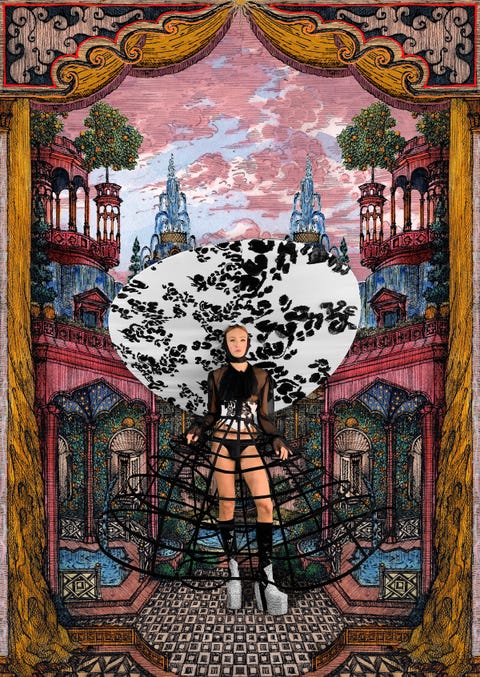 Harris Reed, with illustration by Lukas Palumbo
 "No holds barred. I love that expression," says Harris Reed. The designer, who uses they/them pronouns and identifies as gender-fluid, was constantly on the move as a kid, living in 30 different places. They sought refuge in dress-up, using fashion "as an elevator conversation, showing people who you were within five seconds." Reed's mother, a Mexican American model-turned-candlemaker-turned-perfumer, and their British documentary filmmaker father encouraged this sartorial experimentation. "I was always pinning and clamping and duct-taping things together," Reed says. "It's a running joke in my family that I got into the best design school in the world never having used a sewing machine properly." That school: Central Saint Martins, alma mater of John Galliano and Alexander McQueen, whom Reed grew up reading about in magazines.
While there, they developed an Instagram following that now tops 166,000 and began working with stylist Harry Lambert, who dresses Harry Styles. Reed's glam rock–meets-Victorian designs ended up on Styles for his arena tours. "They were taking a huge chance on me, when he was wearing nothing but Gucci, Saint Laurent, and McQueen, and there I was using my sewing machine that was 50 bucks from Target, in my kitchen eating Chicken McNuggets," Reed says. Soon, their designs showed up on performers such as Solange Knowles, Celeste, and Troye Sivan. Reed also branched into modeling, walking the Gucci runway, and was selected by Alessandro Michele for the house's first gender-neutral fragrance campaign. Reed often models their own designs on Instagram, serving as a combination designer and muse: "For me, performance can be me going to the grocery store. I'll literally wear what I've put on Harry's back—what he would wear in front of an arena."
This content is imported from Instagram. You may be able to find the same content in another format, or you may be able to find more information, at their web site.
Their graduate collection, titled "Thriving in Our Outrage," was inspired, in part, by Henry Cyril Paget, the fifth Marquess of Anglesey, who spent his fortune on jewels and elaborate costumes and converted his family chapel into a theater that mounted Oscar Wilde plays—at a time when Wilde was imprisoned for "obscenity." Reed had been looking forward to showing the collection in the CSM graduate showcase, but when the lockdown interfered, they found creative work-arounds that far more established designers would envy. They paid tribute to their signature supersize hats with a hat filter on Instagram, "worn" by Kaia Gerber, Jeremy O. Harris, Jodie Turner-Smith, and other celebrities. (And noncelebrities: The filter was used more than 850,000 times.) And, working with illustrator and Rhode Island School of Design student Lukas Palumbo and animator Lauren Deane Hunter, they created Victorian theater maquettes, in front of which an animated Reed modeled the pieces from the collection, which juxtaposed classic Savile Row tailoring with opulent touches like crinolines, yards of lace, and Bowie-worthy boots.
This content is imported from Instagram. You may be able to find the same content in another format, or you may be able to find more information, at their web site.
The combination was a tongue-in-cheek way of addressing misconceptions about gender fluidity being "smack-dab in the middle of masculine and feminine." Reed's designs are always avowedly political, as is their public presence. When we speak, Reed has been giving their feed over to imagery of the Black Lives Matter protests they've been attending and to the intersectional aspects of Pride month: "I believe every brand and designer has a complete and utter obligation to take a political stance."
This article appears in the September 2020 issue of ELLE.
This content is created and maintained by a third party, and imported onto this page to help users provide their email addresses. You may be able to find more information about this and similar content at piano.io